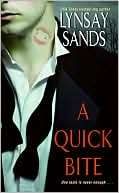 That hot guy tied to Lissianna Argeneau's bed? He's not dessert—he's the main course!

Lissianna has been spending her centuries pining for Mr. Right, not just a quick snack, and this sexy guy she finds in her bed looks like he might be a candidate. But there's another, more pressing issue: her tendency to faint at the sight of blood . . . an especially annoying quirk for a vampire. Of course it doesn't hurt that this man has a delicious-looking neck. What kind of cold-blooded vampire woman could resist a bite of that?

Dr. Gregory Hewitt recovers from the shock of waking up in a stranger's bedroom pretty quickly—once he sees a gorgeous woman about to treat him to a wild night of passion. But is it possible for the good doctor to find true love with a vampire vixen, or will he be just a good meal? That's a question Dr. Greg might be willing to sink his teeth into . . . if he can just get Lissianna to bite.
This novel, if one can even call it that, really was just an excuse for a mortal and a vampire to have gratuitous sex. Lissianna spends so much time explaining her background and her family that there is little left for the development of her relationship with the rather charming Dr. Hewitt. The subplot of Lissianna's hemaphobia is an interesting premise and I am sorry that it was not explored in greater detail - it seems like a silly red herring. As a cherry on top, the writing is dull and awkwardly prosed. Badly done, Ms Sands, badly done!
I have not read Sands' previous vampire works, and perhaps I picked the wrong one out of the lot, but needless to say, Sands doesn't look like she's a keeper in the long haul. I have never been more pleased to see the final page of a book!
Verdict: 1.5/5 - ... NEXT!